Don't look now but this fantasy football season is already more than halfway over. Most leagues have just five weeks left to determine playoff seedings, and its getting to be about that time to either put up or shut up. To help take a look at the players who have helped to make, and in some cases break, our seasons thus far, I polled twenty anonymous fantasy players asking for their first half fantasy MVP, biggest disappointment of the first half, most surprising player of the first half and what player they expect to break out in the second half.
Here are your winner's for the 2 Man Weave's Midseason Fantasy Football Awards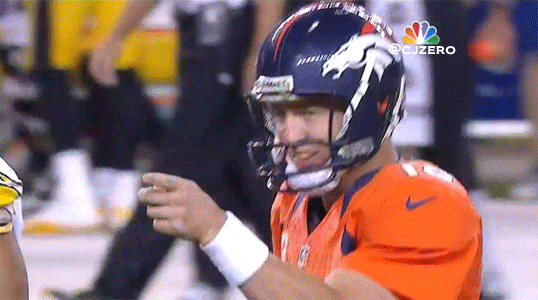 First Half Fantasy MVP
People's Choice- Peyton Manning, QB, Broncos (receiving 60% of the votes)
2 Man Weave's Choice- Calvin Johnson, WR, Lions (receiving 10% of the vote)
Also receiving votes- Jaamal Charles (20%), Cam Newton (5%), Jimmy Graham (5%)
I can't fault the majority for riding with the Sheriff on this one, though I must admit Calvin Johnson's 14 catch, 329 yard performance on Sunday did persuade me to vote otherwise. But Manning has made it look like he's playing Madden on easy all season long and is truly the only logical choice. He's set the NFL passing record for most yards through eight games with 2,919, and has a ten touchdown lead on the next closest passer. Manning's 7 TD performance verse the defending champs in week 1 set the modern day record for most fantasy points ever by a quarterback who did not record a rushing touchdown in that game. You really get the sense that you're watching an artist at work each time he steps back to pass and he's far and away the most terrifying fantasy player to go against.
In the end, that's the only quality that matters when crowning a fantasy MVP.
Biggest
First Half Disappointment
People's Choice- C.J. Spiller, RB, Bills (receiving 40% of the vote)
2 Man Weave's Choice- C.J. Spiller, RB, Bills (receiving 40% of the vote)
Also receiving votes- Tom Brady (10%), David Wilson (10%), Ray Rice (10%), Mike Wallace (5%), Trent Richardson (5%), Maurice Jones-Drew (5%), Dwayne Bowe (5%), Roddy White (5%), Doug Martin (5%)
Oh god so many options to chose from here. There's been a plethora of running backs just habitually shitting the bed and/or injuring themselves week after week. Guys like MJD, Ray Rice, Steven Jackson, Doug Martin, Chris Johnson and David Willson who all have ADP's in the top 30, and have caused their owners nothing but misery and resentment.
However, no running back has been a bigger bust this season than C.J. Spiller. And no, I'm not allowing his recent ankle injury to serve as a crutch because he didn't miss his first game until week 8! That's seven weeks of talking heads hyping him up as an RB2
at worst
, after wasting a mid-first round pick on him, and watching him consistently put up 40 yards on 12 touches while Fred Jackson prances into the end zone for the seventh time.
Spiller lead the lead in YPC last year at 6 a pop, but is now type-rope walking a pencil thin line between 3 and 4. Take away his 54 yard TD vs the Browns in a week 5 loss and and he would have 23 carries for 78 yards for the entire month of November.
During training camp head coach Doug Marrone said they were planning on feeding Spiller the ball "
until he throws up
."
Who knew he was actually talking about C.J.'s fantasy owners?
(yes, that's Matt Stafford signing a girl's stomach and/or trimming her pubes)
Most Surprising Player of the First Half
People's Choice- Knowshon Moreno, RB, Broncos (receiving 45% of the vote)
2 Man Weave's Choice- Phillip Rivers, QB, Chargers (receiving 10% of the vote)
Also receiving votes- Fred Jackson (10%), Eli Manning (5%), Matt Forte (5%), Adrian Peterson (5%), Keenan Allen (5%), Andy Dalton (5%), Julius Thomas (5%), Calvin Johnson (5%)
I guess I could have been a bit clearer in my description of this question because I got a couple of votes for players (AP, Eli) who surprised them with their awfulness. Regardless, Broncos running back Knowshon Moreno sprinted away from the competition with this one, taking home almost half the vote.
He's the feature back on a historically efficient offense (42.8 points per, a record through 8 games) and he's right up there with Jaamal Charles as the most consistent fantasy back this season. He leads all skill position players in touchdowns with 9, to go along with his 754 all purpose yards and 29 catches.
According to
Fantasy Pros
Moreno's average draft position was 161! Behind guys like Isaiah Pead (154), Zach Sudfield (146), Ronnie Hillman (129), Bryce Brown (108), Kenny Britt (98), Daryl Richardson (70) and Montee Ball (55!!!!!!).
But despite all that I still stand by my pick of Marmalard. He has the fifth best per game fantasy numbers of any QB in the league and is averaging more than 300 passing ypg throwing to Tom, Dick and Harry. In the majority of the leagues I play in he didn't even get drafted! Comparatively, Russel Wilson and Colin Keapernick, who were going anywhere from the fourth to eighth rounds in drafts, are ranked 16th and 17th respectively in QB fantasy points per game.
Breakout Player of the Second Half
People's Choice- Rob Gronkowski, TE, Patriots (receiving 15% of the votes)
2 Man Weave's Choice- Rob Gronkowski, TE, Patriots (receiving 15% of the votes)
Also receiving votes- Percy Harvin (10%), Ray Rice (10%), Colin Kaepernick (10%), Andre Ellington (5%), Trent Richardson (5%), Andre Dobson (5%), Jordy Nelson (5%), Justin Blackmon (5%), Chris Johnson (5%), Eddie Lacy (5%), Cam Newton (5%), Jordan Reed (5%), Steven Ridley (5%), Calvin Johnson (5%),
This one was pretty much a crap shoot because we're trying to predict the great unknown here, but you gotta figure America's perma frat boy (sorry Miggs) is going to have an absolutely monster second half to the season. We're talking about a player who caught 38 touchdowns in his first 43 games and is the focal point of a capable offense that is struggling to put up points despite a 6-2 record.
Andre's got the Dropsons, Amendola is Austin Collie 2.0, they actually signed the real Austin Collie and Zach Dudfield worked out about as well as Lenny from
Of Mice and Men's
dogsitting career. Gronk's not just a luxury for the Pats anymore, he's a necessity, and I expect the numbers to indicate that. I wouldn't be surprised if he ends up with double digit touchdowns before this season is all said and done.
First Half All-Fantasy Team
QB- Peyton Manning, Broncos
RB1- Jaamal Charles, Chiefs
RB2- Knowshon Moreno, Broncos
WR1- Calvin Johnson, Lions
WR2- Dez Bryant, Cowboys
WR3- Wes Welker, Broncos
TE- Jimmy Graham, Saints
Flex- Matt Forte, Bears
K- Matt Prater, Broncos
Def- Kansas City Chiefs
First Half All-Waiver Wire Team
QB- Phillip Rivers, Chargers
RB1- Danny Woodhead, Chargers
RB2- Andre Ellington, Cardinals
WR1- Alshon Jeffrey, Bears
WR2- Reuben Randle, Giants
WR3- Harry Douglas, Falcon
TE- Julius Thomas, Broncos
Flex- Zac Stacey, Rams
K- Ryan Succop, Chiefs
Def- Tennessee Titans
First Half All-Disappointment Team
QB- Tom Brady, Patriots
RB1- Doug Martin, Buccaneers
RB2- C.J. Spiller, Bills
WR1- Dwayne Bowe, Chiefs
WR2- Marques Colston, Saints
WR3- Danny Amendola, Patriots
TE- Kyle Rudolph, Vikings
FLEX- David Wilson, Giants
K- Blare Walsh, Vikings
DEF- Houston Texans
-fresh (@
danye33
)