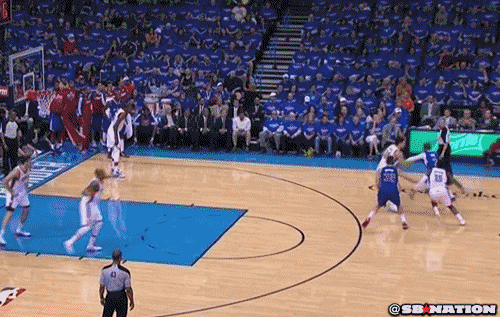 1. Chris Paul played the best game of his career, and he sat the entire fourth quarter.
Epic. Astounding. Masterful. Beyond the 32 spectacular points in 28 minutes, the 8 magnificently made 3-pointers, the artful pocket passes and transcendent court-vision that led to 10 assists, it was hard to watch Game 1 and not feel short-changed. Could you imagine what CP3 would have done if OKC kept the game close? Could he have hung up 45 and 15? How about 50 points and 10 made 3's?
Chris Paul's performance was both clinical and crafty. He dominated with unmatched intensity and relative ease, controlling the game and the basketball like a yo-yo on a string. There were looming questions about his health, but it was Paul himself who looked surgical. After out-dueling Steph Curry for 7 games, it's clear that CP came into Oklahoma City ready to trade punches with Russell Westbrook.
Monday
night, it was the entire Thunder defense picking themselves collectively up off the canvas.
2. Russell Westbrook looked frantic, reckless, and out of control, and no one is surprised.
The polarizing point guard didn't do himself any favors in Game 1. Leaving the huddle early to sit at the far end of the bench. Air balling a three-pointer in transition. Committing some of the most unnecessary and egrigious turnovers imaginable. And yet his greatest shortcoming was that he just simply wasn't Chris Paul. Russell's 29 points on 9 of 14 shooting and 9 of 10 from the line will go unmentioned. In order for the Thunder to turn this series around, they'll need Russell to do more than heat up. They'll need him to keep his cool.
3. DeAndre Jordan has been unleashed.
Doc Rivers has been touting DJ all season, saying and doing everything possible to show the young center just how much his coach believes in his talents. After averaging 15 rebounds and 4 blocks against the Bogut-less Warriors, Jordan carried that momentum vigorously into Round 2. In addition to protecting the paint, he recorded 4 tenacious steals and flew aggressively across the court for rebounds and loose balls. The only thing proven to shake DeAndre's c
onfidence continues to be missed free thr
ows (1 of 8 in Game 1). Scott Brooks began intentionally fouling him in the 3rd quarter, and it will be interesting to see if he goes to the strategy earlier in Game 2.
4. Blake Griffin is challenging Steven Adams as the most likely player in this series to get punched in the face.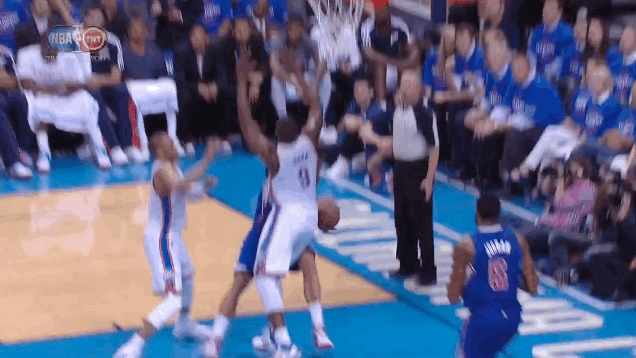 Blake doesn't care that Adams has gotten FIVE players suspended this season (most recently Zach Randolph). In the 3rd quarter, Griffin put Serge Ibaka in a subtle leglock that Bret Hart would be less than proud of. Ibaka got called for a technical foul, and Griffin proved to Adams that it's going to take years of posterizing, posturing, and provoking to dethrone Blake as the NBA's most hated big man.
5. Steve Kerr will be missed on TNT when he's coaching the Knicks next season.
NBA Broadcast Partner Power Rankings
1) Marv Albert and Steve Kerr
Enjoyable, insightful, and worthy of the top spot. Marv even jokes with Steve about "taxing him" with too many "coaching questions". Kerr's days beneath a headset are numbered.
2) Mike Tirico and Hubie Brown
Tirico is better here than
on Monday
Night Football, and Hubie is a basketball fan's ideal mentor. Casual fans may not appreciate his brilliance, but Brown has proven his hoops knowledge to be unmatched.
3) Mike Breen and Jeff Van Gundy
Breen has been one of, if not the best, NBA broadcasters for a long time, but Van Gundy's inescapable Van Gundy-ness drop them to 3rd. It's too bad we'll have to listen to the JVG schtick in The Finals again this year.
4) Kevin Harlan and Reggie Miller
Not a bad duo considering one is a poor man's Marv Albert and the other is the the King of Hyperbole who talks 125% more than he should. Somehow Miller is still more tolerable than Van Gundy.
5) Ian Eagle and Chris Webber
6. Durant is going to get his no matter what, and it might not matter.
If the Thunder lose the point guard and coaching match-ups in this series, it's going to take an ESPN Classic performance from KD for the Thunder to have a chance. When he's not going against the slow-footed, perpetually swearing Matt Barnes, he'll likely see various doses of Blake Griffin (when OKC plays small), Danny Granger (decaying before our eyes), Jared Dudley (a gangly-armed turnstile of a defender), Hedo Turkoglu (unapologetically ineffective), and Willie Green, who continues to be Willie Green. According to Doc Rivers that might not matter. Paraphrasing Steve Kerr, who was paraphrasing Doc, there are Jordan Rules that involve crowding the lane, Curry Rules that involve corralling on the pick and rolls, but there are no Durant Rules. In his 2nd quarter interview, Doc seemed less concerned with slowing down Durant, and more concerned with stopping his Thunder Framily. Team defense will be the key for the Clippers going forward, more so than focusing on the probable league MVP.
7. Because it was a blowout, we didn't learn as much as we hoped.
This was the worst home loss for the Thunder since moving to Oklahoma City. Chris Paul's previous career high was 5 3-pointers, and he went 8 of 9. Clippers fans would like to believe that their team has been galvanized in the last 10 days, and is finally reaching it's potential. Thunder fans would rather see Game 1 as home loss to a team that shot the lights out anomalously. So many aspects of this series still remain unclear. How will the bigs matchup? Who on the Thunder will guard Chris Paul and Blake Griffin in crunch time? Which members of the Jackson/Fisher/Sefolosha/Butler quartet will Oklahoma City lean on? All we can hope for is six more games from two of the NBA's most entertaining teams.
-John Fontanelli (@JohnAnthony37)