One of the downfalls to working the overnight shift is not being able to partake in the birthing of internet legends in real time. I didn't get a lot of sleep this weekend, and crashed for a full twelve hours from 10 am to 10 pm on Monday before rushing to get to work on time. During my slumber I missed out on biggest Vine fight since Sharkeisha- Shovel Girl.
Shovel Girl, whose government, or at the very least twitter name, is Miranda Fugate (her account gained more than 10k followers on Monday alone before being suspended), became internet famous when a video of her getting whacked in the back of a head with a shovel went viral.
Miranda had been winning the one on one fight with the unnamed teen in black prior to the assault with a deadly weapon, though the origins of the beef remain unknown.
Below you can find the eight minute fight video in its entirety, as well in gif form, vine form and several hilarious remixes (Jim Ross treatment, Kendrick Lamar remix, etc).
The Vine that broke the internet
In gif form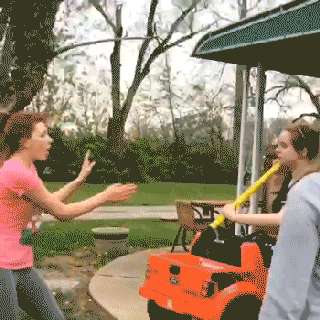 Full video
Jim Ross treatment
Kendrick Lamar treatment
Shovel Girl's Twitter cover photo
The Illuminati Conspiracy