Toronto's lovable, yet
high
ly controversial, mayor is heading to rehab. In a press released Wednesday night Ford said:
Tonight I want to take some time to speak from my heart to the people of Toronto. It's not easy to be vulnerable and this is one of the most difficult times in my life. I have a problem with alcohol, and the choices I have made while under the influence. I have struggled with this for some time.
Today, after taking some time to think about my own well-being, how to best serve the people of Toronto and what is in the best interests of my family, I have decided to take a leave from campaigning and from my duties as Mayor to seek immediate help.
I have tried to deal with these issues by myself over the past year. I know that I need professional help and I am now 100% committed to getting myself right.
I love the people of Toronto, I love being your mayor and I hope you will continue to stand by me.
With the support of my family, friends, professionals and the people of Toronto, I will conquer this.
Please keep me and my family in your prayers during these difficult days ahead.
I just want to say to the people of Toronto that I thank you for your ongoing support and encouragement. I cannot tell you enough how much I appreciate it.
Mayor Rob Ford
The decision to step away from the campaign trail came after
new audio
emerged of the mayor drunkenly cursing and threatening patrons at a bar Monday night. In the video Ford can be heard saying "I'd like to fucking jam her (mayoral contender Karen Stintz) but she doesn't want...I can't talk about this here." He goes on to use threatening language while ordering a drink ("Give me a shot right now or I'll fucking break your legs" and opens up about his disdain for public office ("I'm so fucking sick of politics, dude. Look at my record.").
The Globe and The Mail also released still images that depict the mayor allegedly smoking crack Sunday night in his sister's basement (pictured at top of article). Reporters from both publications claim to have watched the yet-to-be released video.
Ford was stripped of his mayoral duties last fall after he admitted to having smoked crack-cocaine during one of his "drunken stupors," after a
first video
unearthed of him using.
I hope he can pull himself together, and if doesn't get re-elected in October, knows that America will welcome him with open arms.
In the meantime, please join me in taking a gif-trip down memory lane with the People's Mayor.
(At the very least, watch this "Rob Ford: The Movie" trailer. It's truly amazing.)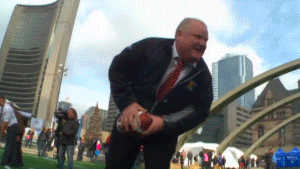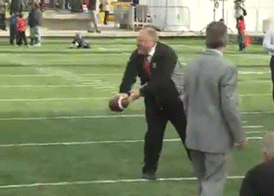 Don't ever change.
-fresh (@
danye33
)