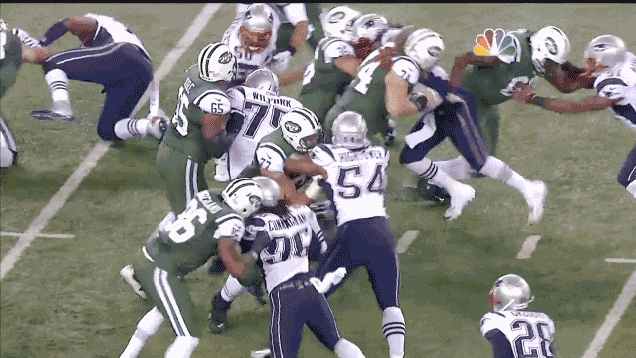 Mark Sanchez, QB, Eagles- Week 9 Stats: 15 of 22 for 202 pass yds, 2 pass TDs, 2 INTs
I honestly never thought I'd write these words, but Mark Sanchez is worthy of a roster spot on your fantasy team. After Nick Foles went down broken collarbone early in the Eagles 31-21 win over the Texans, Sanchez came in and got dirty, throwing for 200+ yards and a pair of scores. The fact of the matter is he has never been surrounded by this caliber of weapons, and he's never had an offensive coach worthy of shining Chip Kelly's shoes. Sanchez has the talent, and now he has the opportunity to redeem himself from the "butt fumble." A perfect plug and play for Brady, Luck and Rivers owners dealing with byes in week 10.

Martavis Bryant, WR, Steelers- Week 9 Stats: 3 rec, 44 rec yds, 2 rec TDs
In case you skipped last week's column, here's what I had to say about the 6'5" rookie from Clemson:
"

Anytime your quarterback throws 6 touchdowns and passes for more than 500 yards his receivers stats are bound to be inflated. But don't let Sunday's once-in-a-season (if you're lucky) outburst scare for you from dropping some serious waiver budget on Bryant, the rookie out of Clemson. He's now scored three times in the last two games, emerging as a big time red zone threat.

"
Bryant followed up his breakout performance by catching two more touchdown passes in the Steelers Sunday night bashing of Baltimore. He's now got five scores in his last three games, and is not-so-quietly surpassing Markus Wheaton on Pittsburgh's WR depth chart. Until proven otherwise, I'd happily move Martavis to my WR3 slot and not look back. This is only the beginning of what is sure to be a bright fantasy career.
Terrance West, RB, Browns- Week 9 Stats: 15 car, 48 rush yds, 1 rec, 2 rec yds, 1 rec TD
Look, I'm not going to sugar coat this. I would be lying if I even pretended to know the rhyme or reason behind Mike Pettine's bipolar backfield. But with that being said, Ben Tate has looked broken down and decrepit in recent weeks, Isaiah Crowell has been missing in action, and Terreance West has been slightly above average, so in this case I say ride the lukewarm hand. He out-touched Tate 16-14 in their win over the Bucs and his role should continue to grow. I don't think West is a guy who is going to win you your league, but a flex fill in during the heart of bye weeks? Sure, why not.
Allen Hurns, WR, Jaguars- Week 9 Stats: 7 rec, 112 rec yds, 2 rec TDs
It's hard to trust anyone whose fantasy production rests solely on the arm of Blake Bortles, but Hurns production does not deserve to go unrecognized. He was targeted a team high nine times in the Jags 33-23 loss to the Bengals, hauling in seven passes for 112 yards and two touchdowns. This was the rookie's second multi-score game of the season. I know it's not saying much, but he's got a much higher ceiling than Cecil Shorts at this stage of their careers.
Mychal Rivera, TE, Raiders- Week 9 Stats: 8 rec, 38 rec yds, 2 rec TDs
Gronk owners rejoice! Your savior is here and his name is Mychal Rivera (assuming you don't already own Travis Kelce or Heath Miller). Rivera flowed into the end zone twice in the Raiders closer-than-expected 30-24 loss to the Seahawks. He was targeted a team high 11 times and should continue to be heavily utilized while playing from behind against the Broncos this at Mile High. It's no secret that bad quarterbacks rely heavily on their tight ends as safety blankets, and I fully intend on wrapping myself up in some Mychal come Sunday.